Behavior blockers
[
]
Screenshots
Selection of behavior blockers snapshots:
(Click to enlarge)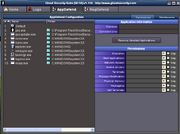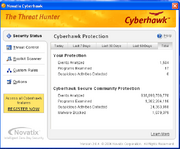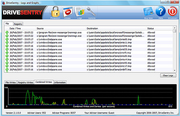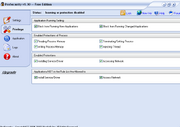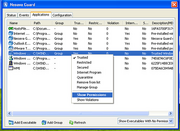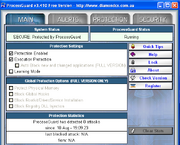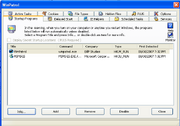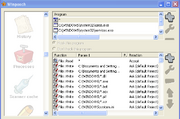 This class of security software is the latest and newest to be employed and currently it is still very much a niche market, although major security product vendors are starting to add it to their security products. See FAQ on HIPS and discussion here for more details. On the freeware front, there is a wide variety of choices available, mostly liteware (some which are pretty much as capable as the full versions, while others are significantly weaker) and a few open source and free beer products.
Expect a lot of developments and changes.
Popular
[
]

If all you want is execution control (so you are prompted when an unknown new process try to execute), then Winsonar 2007 XP or Abstrusion protector is all you need. Avorax Shield and Winpatrol provide mostly registry control and antispyware protection only warning you of attempts to set autostart entries, hijack browser related entries similar to most antispyware real time protection but does not warn you of new unknown processes starting. Most of the other entries here do both as well as monitoring even more subtle system behavior. AntiHook, Appdefend/Regdefend, Dynamic Security Agent, EQSecure, NeoavaGuard, System Safety Monitor, ProSecurity free, Sensiveguard, Winpooch provide a lot of protection by warning you of system changes and behavior, but is very intrusive and requires some knowledge to use. ThreatFire (beta) (which boasts some intelligence) and Prevx2 (which uses a large database whitelist of applications) is perhaps the easiest to use.
Others
[
]
Process firewalls/ execution control (only)
[
]

If all you want is execution control (so you are prompted when an unknown new process try to execute), then one of the entries here is what you need. Trust-no-exe is highly configurable and useful software that allows you to set filtering permissions at various levels. Winsonar 2007 XP , offers a special online mode, where all unknown processes are automatically killed.
Integrity checkers (only)
[
]

These entries act mostly as integrity checkers, to ensure that sensitive file and directory areas like Windows directory is unchanged. Some like Sentinel or Tiny Watcher only do this on demand or at startup, others like File Checker and Spy-The-Spy do this in near real time polling the system a number of times a minute to check for changes. Drive Sentry is a full blown "data firewall" that can watch any folder ,file or extension for changes. Some of the behavior blockers already mentioned above like EQSecure and Winpooch can also do similar functions.
Registry watchers (only)
[
]

These utilities warn you of changes to autostart entries. Most of them (except MJ Registry Watcher) cover only the most common autostart up areas, and you cannot add more entries for monitoring. Not recommended unless you are not using anything else more capable (E.g. AntiSpyware with realtime protection or one of the other HIPS above with register monitoring capabilities generally do the same and more). For on demand checks see List of freeware autostart lisers
Script watchers (only)
[
]

These are Script related tools. Script Defender , ScripTrap and Script Sentry are tools that warn you of any scripts running and providing the option of blocking them or letting them continue to run. They work by associating themselves to script extensions (Script Defender allows you to add more extensions to intercept) so if a script runs it will first call them, before passing it on, as such they use zero cpu time. Also most normal users will never run scripts, so these tools are usually silent and not very intrusive until similar monitors for executables.
Note  : Most of them tools are very old, because they were invented at the time when scripts based worms were rampant.
Information Sources
[
]
Link to Tests of specific HIPS products

HIPS_FAQ
---